"Lynn Anderson will always be a part of the Center Sound Records' family. We are very fortunate to have known her and have her on our label. This legend's grace and voice will be forever missed. There is one more rose in God's garden. Rest in peace." Craig & Mary – Center Sound Records.
"Bridges is Mom's first religious CD in her long career of making music. It has been our soundtrack the past few months and now it's become the perfect memoir. Like a gift left behind delivered only as Mom can…It's almost like it was meant to be." Lisa Sutton – Lisa Sutton Music Services
---
Center Sound Records is proud to announce the release of Grammy, Billboard, CMA and ACM Award Winner Lynn Anderson's first internationally distributed album in a decade with Bridges on June 9, 2015. Bridges, featuring collaborations with The Oak Ridge Boys and The Martins, marks the return of Bil VornDick to the producer's chair on Lynn's project. The partnership previously received a Grammy nomination for her 2005 release Bluegrass Sessions.
Bridges tackles topics of salvation, redemption, forgiveness, faith, love and acceptance in this twelve song selection.
"Lynn is an icon in the country music industry and a pleasure to work with…Bridges is an inspiring musical journey." Craig Brandwynne, Center Sound.
"There is heartfelt sincerity in Lynn Anderson's album Bridges…I invite the listener to enjoy these songs of faith that Lynn has recorded…" Bil Vorndick, Producer
"Lynn Anderson is a true artist. Once again that wonderful artistry is apparent in this celebration of faith and spirit." Bruce Dees, Producer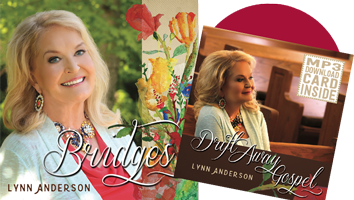 Special CD/45 bundle.
Lynn's Bridges CD & Drift Away Gospel limited edition 45.
45 includes free digital downloads.
$24.95 + $3.95 s/h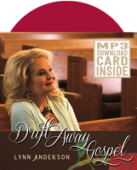 Limited edition 45 featuring Drift Away Gospel b/w Get Up Joseph (feat. The Oak Ridge Boys).
Includes free digital downloads.
$15.95 + $3.95 s/h

Lynn Anderson's brand new CD, Bridges, The Betty Swain Project CD(feat. Lynn Anderson), and Drift Away Gospel limited edition 45.

$29.95 + $3.95 s/h