Sing With Max™ Volume 2 is a collection of ten recordings of original children's music that addresses pressing social issues like physical fitness, stress response and importance of learning the fundamentals. Listeners, through different styles of music, are encouraged to participate and learn, get up and dance, and sing-a-long. For this album, the Read With Max team invited special guests like singer-songwriter Debi Derryberry, most famously known for playing the character of "Jimmy Neutron," Grammy winner Robin Ruddy and the Dynonastics, award-winning artist and songwriter Lisa Sniderman, aka Aoede, as well up-and-coming songwriter and artist Elese Corson. The album is co-produced by Center Sound Records, Inc. and Read With Max, LLC.
Order Sing With Max™ Volume 2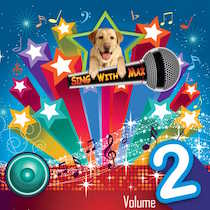 Available now from iTunes and CDBaby.
Read With Max's previous album, "Sing With Max™ Volume 1," achieved some high honors and popularity. "Sing With Max™" earned a Mom's Choice Award, the Dove Foundation Award, the Akadima "Best Children's Music Album," as well achieving the #1 ranking globally and nationally for the children's music artist category, and #1 of all genres among over three million independent music artists on Reverbnation. Brandwynne & Majewski earned a People Choice Silver Telly award for the recording and the album was added on the 56th Annual Grammy awards ballot for nomination consideration. Anthony M. T. Majewski was also nominated for Outstanding Record Producer for the Detroit Music Awards.
Order Sing With Max™ Volume 1