I have been a fan of Lynn Anderson since I was 5 years old. My mother is responsible for introducing me to the love of music from her daily playing of her Zenith suitcase record player with all the 45's on a stack, but Lynn Anderson was the voice that called me to be her fan. I wanted to pay tribute for the years of enjoyment Lynn has provided me, not only as a fan, but also as a friend. I am so glad to have met my on the road family; Robin Ruddy, Buddy Skipper, Steve Kennedy and Jeff Hale, Lynn's band members who contributed to this project. I also want to thank Kerry Marx, for his fine guitar playing and honorary member of the family.  It has been a bittersweet get together, but it was a thrill and an honor to work with the band and come together in a studio setting to honor the Great Lady of Country Music. Craig Brandwynne, one of Lynn's Producers from her last few albums, made the whole process for me as smooth as possible.
I also want to give a big Thank You to Lisa Sutton, Lynn's daughter, for her work on the CD cover.  It means a lot to me to have all the support of my friends and family, especially my aunt Linda.
It is my hope that this tribute CD will bring back enjoyable memories of
 Lynn, help promote Lynn's latest CD "Bridges," some of her finest
 material in recent years, and also help to get her long overdue induction 
into the Country Music Hall of Fame.

 Be kind to yourself and others. Our time on Earth is not known.
Order "A Tribute to Lynn Anderson"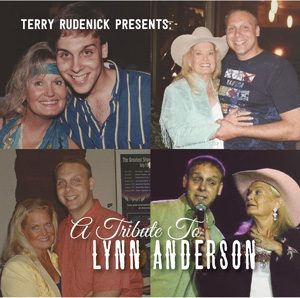 $4.95 + $2.49 s&h